Customer Update Event
Last month we invited our customers to attend an event at the Solaris Paper plant in Greystanes, Sydney to share with them the progress being made as part of our affiliate Asia Pulp and Paper's (APP) Sustainability Roadmap Vision 2020 and its third quarterly update.
We would like to thank everyone that took the time out of their busy schedules to attend the event. We hope you all gained some insight into APP's commitments and the progress being made to meet these.
The key points addressed at the event are as follows:
In February of this year, with the support of the Indonesian government and Greenpeace, the Chairman of APP announced a new Forest Conservation Policy. This was reported widely on ABC in Australia as well as the New York Times, The Guardian and numerous media outlets. The new policy saw the company cease all natural forest clearance to allow High Carbon Stock (HCS) and High Conservation Value Forest (HCV) assessments to be carried out. This was a significant step forward for APP, 'delinking' itself from deforestation.
Significant work to implement the policy has occurred since February and although it hasn't been plain sailing, APP has made significant progress. For example, the initial High Conservation Value Forest and High Carbon Stock assessments are complete across all of APP's 38 suppliers.
The HCV ground studies are being carried out by two independent companies – Asia Pacific Consulting Solutions (APCS) and Ekologika. APCS is conducting the first eleven supplier assessments, which will be complete by the end of September. Ekologika is carrying out 27 assessments, 16 of which will be finished by February 2014.
HCS assessments conducted by The Forest Trust (TFT) continue to progress. Eighteen first priority supplier assessments will be complete in October.
What this means to our customers is that steady progress is being made, under often difficult conditions. Our customers can be comfortable in the knowledge that APP and its suppliers will only develop areas that are not forested, as identified through these independent assessments. As for areas that are found to contain high levels of carbon or fragile biodiversity, they will be protected – no matter what.
Another significant step forward in relation to transparency is the development of an online dashboard which has been developed by TFT. This dashboard will provide social and environmental performance data, enabling key stakeholders to review current progress on the ground and see moratorium boundary maps, HCS and HCV progress as well as grievance and verification reports. The monitoring tool was launched as a pilot version in June and is now being reviewed both internally and by our NGO partners.
To further improve transparency and open the lines of communication with stakeholders regarding the Forest Conservation Policy, APP has set up a grievance procedure. The aim of this policy is to ensure that any problems that arise can be dealt with effectively. So far the procedure has been used six times by local communities and NGOs. On each of these occasions the complaint was dealt with quickly and transparently, with a report released by TFT.
Michael Pescott of The Forest Trust gave a presentation describing the work they do and how they are assisting APP to demonstrate the sustainability credentials of their supply chain.
Nick Rowley, who represents The Robertsbridge Group in Australia and is working closely with the business here on broad sustainability strategy, gave a short presentation setting out the work and approach of the group working with APP.
We hope the update has helped our customers to understand the important pieces of the policy, delving a little deeper into the background detail.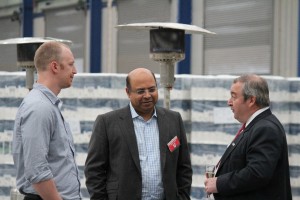 For more information on APP's 2020 Sustainability Roadmap and current initiatives, please see the below links.